The Aircraft Fleet Gallery
---
Pacific Western Airlines built a fleet of reliable and efficient aircraft that with the resolve of the employees made the company into a successful multi million dollar business that eventually spanned 5 continents. Here are a few of those aircraft. Please e-mail the webmaster with your photo's.
---
The Entire Fleet
Here you can find our entire fleet registrations. With thanks to the authors. Click Here
---
December 2, 2017 - Aircraft pictures c1969 (by D. Dertien)
A couple of new beauty slides.One of Herc PWN in the white livery and a rare shot of Convair 640 CF-PWR sitting at YVR. PWR was written off in Campbell River in Sept 1969.... Cheers Dan.

---
May 6, 2014 - Thx DD

---
April 22, 2014 - B767-200 on final YVR


---
April 1, 2014 - L-188 Electra CF-ZSR at YXD (Al Giolma)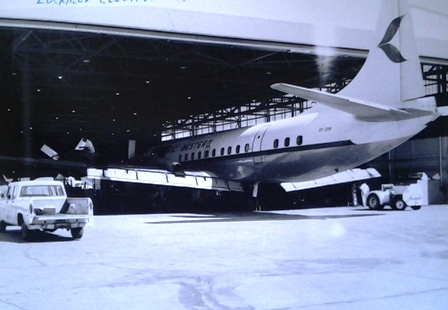 ---
March 19, 2014 (From AG)
We have a classic true DC-3 CF-PWH inherited from Queen Charlotte Airways and a/C776 CF-PWJ rollout from the CP (Brittania) hangar after conversion in 1976 from cargo to passenger configuration
---
Feb 14, 2014 Photos

Convair 640

B707

DHC2 Beaver
See Story Here
---
June 10, 2013- R. Daniel
I was hired March 1969 at PWA as a Learner Mechanic & remained with PWA --- CAIL --- MTU (Engine Shop joint venture with CAIL) until I retired in 2003. I have attached some pictures of some notable aircraft and equipment in my career. The file name associated with the picture indicates what the picture was about. There is picture of a tow tractor named "Lunar Module" It was affectionately named that because it looked similar to the Modules associated with the USA activities re the Moon. It was I think purchased to move the B707 around. Another picture has the Vancouver Hangar with a B727 & a Mallard which was inherited from BC Airlines.
| | | |
| --- | --- | --- |
| B737 at Abbotsford | B727 & Mallard YVR | Hercules YVRAP |
| | |
| --- | --- |
| Lunar Module | Space Guppy Contract |
---
Sep 10, 2013 Aircraft Pictures
---
June 3, 2013 - DC6 - PWQ Finds Another Life.
In June 2012, Pekka Kauppi from Finland, sent the news of his work on one of our DC6 aircraft. As a follow up, Vic Bentley, our maintenance engineer who had experience with this aircraft sent this follow-up.
June 24, 2012 - PWQ DC6 in Finland
Hello. I found your website and it shows that you flew one of the DC6's (CF-PWQ) of which I have it's nose section preserved here in Finland..!! I purchased it from Phoenix Arizona and had it shipped to Finland. I have spent lot of time to restoring it and soon to be made to a flight simulator...:) I'm sure some of your people would be interested of knowing this.

Here I include some images for you to see...
Thank You Pekka J Kauppi
---
May 31, 2013 - New images from DD. Check out the Gateway livery on the CV640
March 25, 2013 - Enjoy the aircraft & a promo photo from YVR
---

Did you know that of the 4 Canadian Airlines B747-400 aircraft, 3 are parked in the AZ desert and 1 is still flying with Philippine Airlines. A search of surviving PWA aircraft showed several still in the Mojave Desert CA. These include the 2 B767-200.
---
Apr 13, 2013 - DC4 - Parked at YMM
How it has all changed now. Thanks to S. McAreavy


---
Jan 2013 - Aer Lingus B737
A/C 730 C-GTAR - Sent By B. Nadeau. PWA operated this airliner for a short period and besides the brilliant colours, another interesting fact was the galleys had lots of equipment to make tea but offered little in the way of coffee makers.


---
May 22, 2012
An air to air of A/C 749 - sent by Ron Fraley.

---
May 22, 2012 - Aircraft from D Dertien

| | | | | |
| --- | --- | --- | --- | --- |
| B707 | B737 | C640 | DC-6B | L100 |
---
Sep 17, 2012 Aircraft Added
| | | |
| --- | --- | --- |
| | | |
| | | |
| | | |
| | | |
---
March 21, 2010 - AC773
Attached is the life record of one of our B707's - registration CF-PWV. It has lived long good life and is now part of a Qantas museum. Below is a link that tells the same story.

http://www.aussieairliners.org/b-707q/vh-eba/vheba.html

From Alan Giolma ..... Here are some postcards from my collection, all of the same aircraft. First card depicts QANTAS B707-138B,VH-EBA. It was delivered to QANTAS July 1959 as a B707-138, the first jet aircraft on the Australian register. It was later converted to the B model [fanjets] in July 1961. PWA purchased this B707 in Nov.1967 and she became CF-PWV AC773, serving until SEP.1978. The aircraft was sold shortly thereafter and went through several owners until purchased by QANTAS Foundation Memorial in June 2006 making its final flight in June 2007 to the QANTAS Founders Outback Museum. I have fond memories of taking a charter flight Vancouver to Honolulu in the winter of 1974. I don't have fond memories of hand loading that [at the time] big airplane! Did you know that after PW sold this airplane, the "JACKSONS" once toured in it. The airplane had an executive conversion.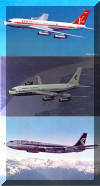 ---
Avro York
The York below was a civilian version of the Avro Lancaster - a successful WW-II bomber. The York carried 56 passengers over a range of 3000 miles.



(circa 1967)