Transair
In 1978, Pacific Western acquired the regional carrier Transair Ltd. of Winnipeg. In February 1979, in an agreement with the Canadian Transport Commission, Transair ceased all scheduled operations east of Winnipeg and Calgary/Edmonton via Regina and Saskatoon, Saskatchewan. This linked the Pacific Western/Transair systems, completing the first step to eventual merger. On December 1, 1979, all operating licenses and routes were transferred to Pacific Western Airlines and Transair ceased as a regional carrier.
The Transair component provided a vital element to the success of Pacific Western. Their equipment, people and routes complemented the services of Pacific Western and added a segment to the much needed access to Eastern markets.
Follow this link to a look at :Transair: A Look Back at Winnipeg's Hometown Airline
---
Sep 27, 2020 Three of the fleet. (G. Emptor)
Transair NAMC YS-11 CF-TAK YWG 1974
Transair NAMC YS-11 CF-TAM YWG 1971
Pacific Western Airlines Boeing 737-2A9C C-FTAN YVR July 1980 After the merger)
Aug 1, 2020 Transair Coaster - by G. Emptor


---


Pacific Western Airlines 1977 Annual Report --- Transair Limited Acquisition
In early 1977, the majority shareholders of Transair Limited, a regional carrier based in Winnipeg, approached your Company and offered their holdings to Pacific Western. An agreement was finalized in May whereby your Company would purchase in excess of 70% of the outstanding shares, at $1.75 per share. This agreement required Pacific Western to make available to Transair $3,000,000 upon signing by way of a guaranteed bank loan. At the same time, four of your Company's directors were placed on Transair's Board, giving your Company effective control over Transair.

In early June, an application was filed with the Canadian Transport Commission, asking for permission to acquire in excess of 70% of the outstanding common shares of Transair. At the same time, Transair filed applications with the Federal regulatory authorities to suspend their services west of Winnipeg, and to add the points Regina, Saskatoon, Edmonton and Calgary to their route system. This will permit Transair's scheduled routes to be linked up with those of Pacific Western. In December of last year, the Canadian Transport Commission held hearings on the three applications. We are presently awaiting their decision.

Transair Limited employs 701 people, and operates a fleet of 7 aircraft, including 2 Boeing 737 convertible passenger/cargo aircraft with gravel kits, and 1 Boeing 737 passenger model; 2 twin-jet F-28's; and 2 twin engine turbo-prop YS-11's. Their route structure links Toronto, Sault Ste. Marie, Thunder Bay, and Dryden in Ontario; Winnipeg, Gillam, Norway House, Churchill, Thompson, The Pas, Flin Flon, and Lynn Lake in Manitoba; Yellowknife, Resolute Bay, Eskimo Point, Baker Lake, and Rankin Inlet in the Northwest Territories; and Whitehorse in the Yukon. The Company also has a helicopter division employing 34 people and operating 12 helicopters ranging in size from a Bell 206 Jet Ranger to a Bell 204.

Assuming the Canadian Transport Commission approves the applications referred to, Pacific Western will become Western Canada's regional airline, with annual revenues approaching $200 million.

The combined route structure will give your Company a solid economic base, which will in turn enhance the stability of the organization. The company should be in a position to participate in most major energy programs now underway and expected in the future.

The acquisition of Transair should permit a further strengthening and streamlining of the organization structure to meet the challenges of the expanded company.
---------------------

From – Pacific Western Airlines 1977 Annual Report --- Commitments – section b) (ii) By agreement dated May 11, 1977, the Company agreed to purchase 2,245,797 (approximately 72%) of the 3,080,811 outstanding common shares of Transair Ltd. at a price of $1.75 per share, conditional upon regulatory approval of route realignment which would connect the route networks of Transair and the Company. The agreement requires the purchase to be completed within 20 business days after regulatory approval is obtained.

The Company has guaranteed a bank line of credit for Transair Ltd. up to a maximum of $3,000,000 of which $2,000,000 was outstanding at December 31, 1977.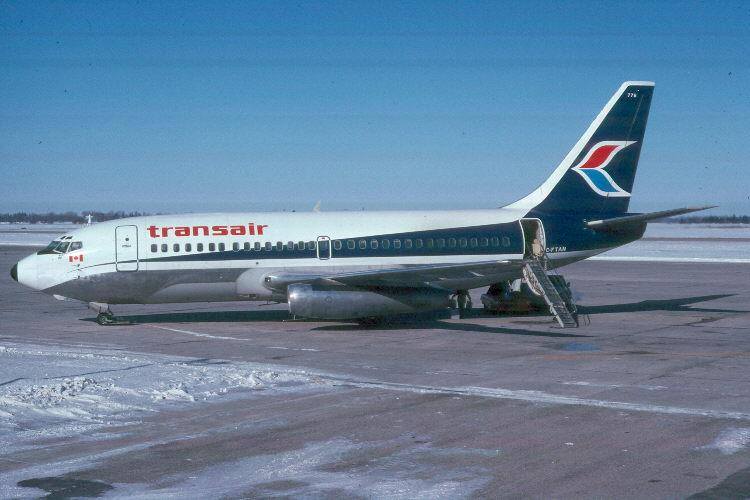 Contributor: N. Burton
---
April 8, 2020 Transair News - Sourced and Scanned by N. Burton
---

Transair B707-320C Cargo - credit K. Walker
---
April 1, 2020 - Transair Timetable and Route Map 1978
This is likely the last schedule published before the PW Merger.
Transair Aircraft

| | | | |
| --- | --- | --- | --- |
| B737-200 | B737-200C | B737-200 | B707-351 |
| B707-351 | Boeing 737-200 | B707-351 | Fokker F-28 |
| B737-Miss YFO | B737 | TZ Beaver | TZ Feet YWG |
| B707 | B737 | B737 | DC-3 |
| DC-6 | Norseman - Pickle Lake | YS-11 | Tiger Moth |
---
October 2011 - A picture of C-FTAN being repainted in the new PW livery. At this time, Transair had been part of the PW organization for a couple years and this picture would have been taken when the company implemented the new image.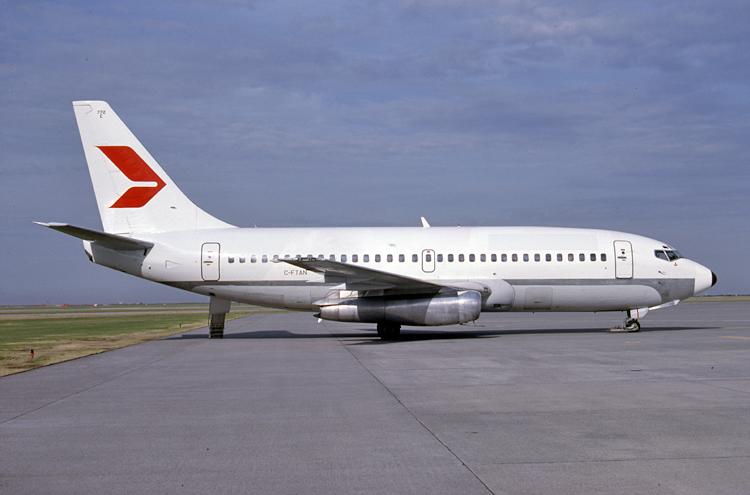 ---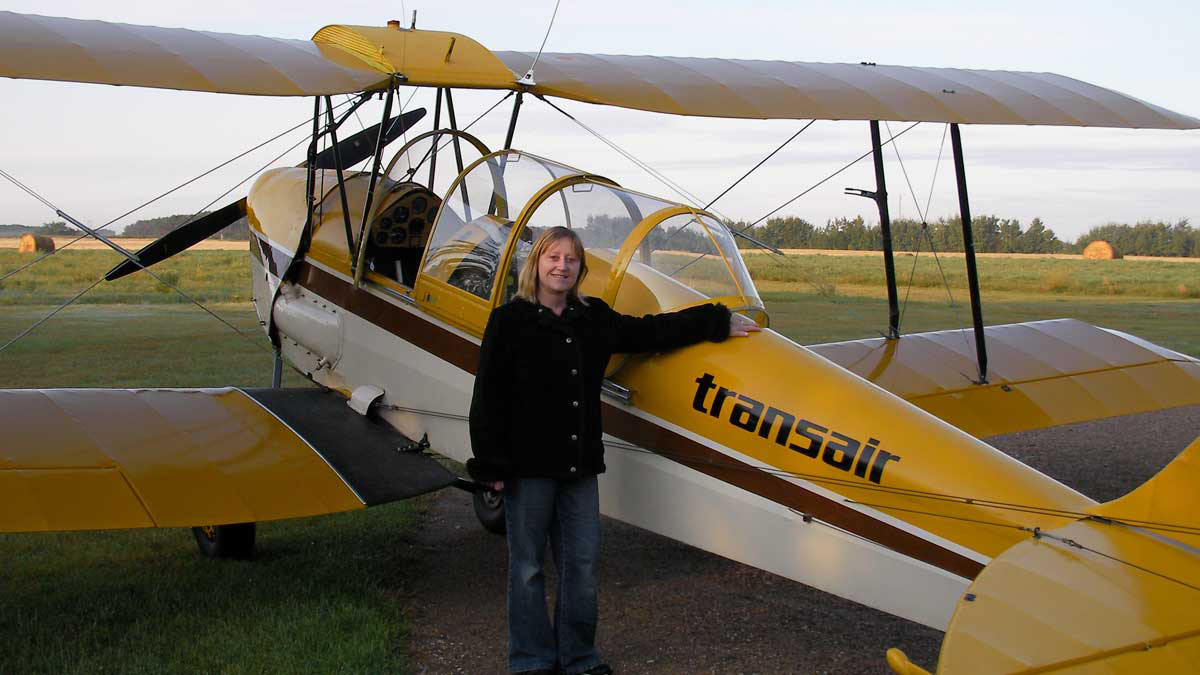 We have Karen Gillespie and her DeHavilland Tiger Moth that was rebuilt by Transair in 1979 and spent the last 29 years in the Western Canada Aviation Museum. Karen acquired the airplane and is actively flying it from her own grass airstrip south of Saskatoon. Karen worked for Transair/ Pacific Western/Canadian /Canadian Regional from 1978 to 1999 in Winnipeg and Saskatoon. The last pilot flying a Transair aircraft! FLY ON!
---
Interesting Article from the 60's - Appointment A. Norman to President.
---
Are you looking for famous Transair Alumni, our very own Peter Mansbridge started his career at Churchill Airport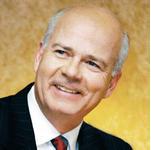 We are also proud to have Capt. Rosella Bjornson onboard. You can read her story here. The picture next to Rosella is her and her husband Bill Pratt celebrating her induction into Canada's Aviation Hall of fame. Photo from the Netletter & Stu Russell.