Updates
We have added a new section called Updates which will allow alumni PWA staff to submit an action photo or a business card, or something which will allow you to share a little of what you are doing now. E-mail your update with your picture or story and we will post it. . Or, alternatively, send a picture of the way you were - at work and in uniform.
---
March 2016 - CNR Beck
Airline career began 16 MAY 1966 in Flight Operations as a Navigator. In 1975 began a new position as Manager Flight Technical Northern Operations based in Edmonton. In 1980 relocated to Vancouver and continued in Flight Technical and retired 1998 from Canadian Airlines after 41 years in Aviation. Prior service included 3.5 years with the RCAF 419 All Weather Fighter Squadron Germany, 2 Years 415 Maritime Patrol Squadron, Summerside PEI. 2 Years at Kenting Aviation Toronto Photo Nav High Arctic on a B-17G and Malaysia 6 months mapping on a Beech Baron.
---
January 2014 - Capt James Marshall
The attached photo is an image of CF-FHB that is credited to Pacific Western Airlines. The photo appeared in the Kamloops Sentinel in the year 1953.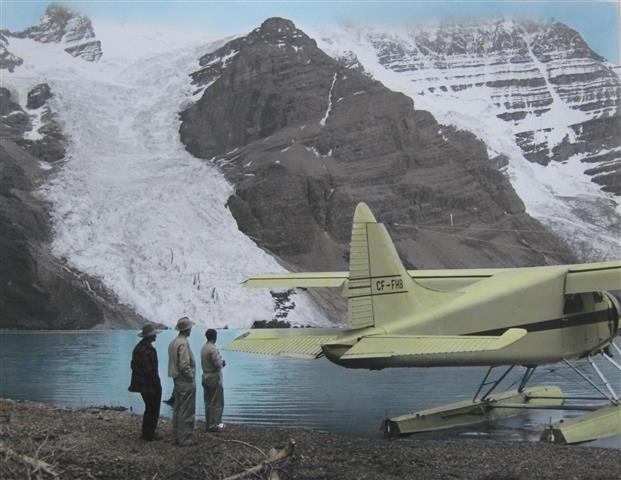 The coloured photo hung in the residence of the late Captain James Butler Marshall and his wife Marjorie for many years.
Jim began his aviation career in 1938 with Consolidated Mining and Smelting Company at Goldfields, Saskatchewan, as a mechanicís helper. He obtained his PP Licence in 1941 at Winnipeg and worked there at No. 5 A.O.S. School. In the period of 1942-43, he was flight engineer with CPA, CM&S air division having been amalgamated with CPA in 1942. He was an air engineer between Edmonton and Norman Wells. The year 1943 saw Jim obtain both his Commercial licence and Engineerís licence. May 1943, Jim was transferred to Sioux Lookout, Ontario. For winter operations, 1943, he took a transfer to Flin Flon, a base from which he would fly until Spring 1945. Jim received his Transport pilotís licence in May 1944. On leaving CPA in 1945 Jim worked next for Eco Exploration Company as pilot-engineer, until 1949. That company was later known as Riverton Airways. He evidently had a twin-engine aircraft and operated a fish camp, but after a year sold out due to falling fish prices. He was later a pilot at Lac du Bonnet, Manitoba, before coming back the British Columbia. Jim joined Central B.C. Airways on April 15, 1952, and was flying the Kemano route out of Vancouver. On the death of Hal Quinn, manager of itís Kamloops operation, Jim and Marjorie and 3 children resided on the Fulton Field airport (Kamloops). By October 1953, Jim had 8000 hours flying time as captain. Jim was a Dew Line pilot in 1955. From the base, at Kamloops, Jim performed many mercy flights. Unfortunately, Jim and his three geologist passengers lost their lives in the crash of a de Havilland DHC-2 seaplane (CF-ICK) on take-off from Lorna Lake, British Columbia at approximately 1330 hours, PST, 15 August 1960. At death, Jim held a Senior Commercial Pilotís licence and had accumulated about 14,000 hours with about 8,000 hours on floats.

---
December 2013 - Ferd Caron
I would just like to update my profile, as in Sept 12, I decided or was convinced to run for the position of Sturgeon County Councillor and fortunately my hard work knocking on doors paid off, and on Oct 21st, I became a County Councillor. I am truly loving it, and it reminds me so much of the 70ís when I first started with PWA, the family atmosphere in particular. So Lorne, when you get a chance, please update my profile to read - YXD Financial Planner/County Councillor. Take care old mate.
Webmaster - Congrats Ferd on your recent success - well done!

---
November 2013 - Sharon Gray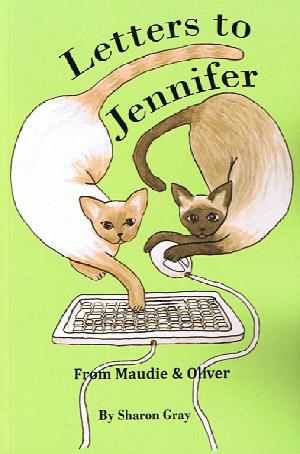 Sharon retired as a Flight Attendant a few years of ago and after a stint at Transport Canada, she took up the art of writing. In her words ... Jennifer, a friend of mine (and my immediate supervisor), lived in Edmonton, I live in Winnipeg. In October 1999 she was diagnosed with breast cancer. I was devastated and did not know how to communicate with her. If I were to telephone her, I knew I would say, "How are you?". I knew how she was. That Christmas she sent my two Siamese cats lovely Christmas gifts. I thought it was only proper that Maudie and Oliver write a thank you letter. They did and she loved it. Ergo. That was the way I would communicate with her. Thirty five letters were written and I tried to time them with her ongoing chemotherapy and radiation treatments. I worked at making them humourous. If she could laugh, if only for a few minutes, her hideous journey could be forgotten, for a moment. She shared them with many and she urged me to have them printed. She urged extremely well. The letters were published as Letters to Jennifer in September 2002. My plan was to get the very first book off the press, travel to Edmonton and present it to her. We were confident that she would be with us until Christmas; she passed away April 8, 2002, shortly after I retired from Transport Canada.
Letters to Jennifer was number one on the best seller list in Winnipeg for two weeks. That book is now out of print.
I continued to write letters to friends and acquaintances who were suffering horrid illnesses. An updated edition, Letters to Jennifer From Maudie and Oliver by Sharon Gray was published in September 2011. The second book has 57 letters. You can find the Award Posted here - http://www.animalsbookfestival.com/ Click on 2013 AAA Book Festival Winners.
---
July 2013 - Hassan Eltaher
Hassan checked in to update his whereabouts. After working on a security conference in Dubai in 2010. he took on a new passion - giving enrichment lectures aboard Cruise Ships including Holland America, Princess and Regent. Hassan M Eltaher was the president of AVIATION CANADA; a consulting enterprise specialising in aviation security intelligence. He has held the positions of Chief, Civil Aviation Intelligence and Assessments. His professional career has also covered various operational and management aspects of civil aviation namely with Pacific Western Airlines in Western Canada, then as Director, Airline Management Training Programs for the International Aviation Management Training Institute in Montreal. Hassan now does lectures on luxury cruise liners in the Middle East. He has a new book than can be reviewed here


---
March 18, 2013 - Ken Hinatsu
Just a brief update from Phoenix, Arizona.
This month American Airlines and US Airways announced their intent to merge to form a new American Airlines. With this merger, a part of history with America West Airlines also disappears. I think it was back in 1981 or so when Pacific Western sprung three B737-100 to kick-start America West Airlines. Of course, America West ended up taking over US Airways and now American Airlines. I came down to Phoenix in 2000 to work with America West and I am still here. I now work for LOT Polish Airlines.
I am attaching a recent photo with my older son Taylor and wife Pamela. I will be more than happy to meet up with PW snowbirds down her. Here is my e-mail.


---
Jan 30, 2013 Riva Bertram (nee Whitehouse)
I was browsing the web this evening and found the PWA website. My name is Riva Bertram but I was known as Riva Whitehouse when I joined PW as a flight attendant in the late sixties and left 13 years later to stay home and take care of my daughter Jennifer who is now 36 years of age. I have two beautiful grandchildren ... Emily who is four years old and Zoey who just turned one. I worked for Pacific Western Airlines in their Reservations Department in downtown Vancouver and also worked as a Res Agent and Receptionist for Pacific Western Holidays (the charter arm of the Company).
I am retired now, and work part-time when I feel like it. I am so sorry that I missed the reunion in the summer of 2012. I took a look through the Passages page and was sad to see so many fellow employees and front end crew gone but not forgotten. The time I spent with PWA was the most rewarding and fulfilling time of my life and I will never forget it. I do have photos and will scan them and send when next I am somewhere with a scanner. I reside in Abbotsford, B.C. Send me an email ... link is below.
Kindest regards,
Riva Bertram (nee Whitehouse)

---
Dec 2012 Allan Evans - A great read
Good day. I have read your PWA employee alumni and would like to add the following in case anyone remembers both myself and wife who flew with PWA back in the 60s. My name is Alan Evans.I joined PWA April 1967 from NWT being at that time the only South African flying the North. I flew the DC6 with the R28 P& W engines plus the C54 with great guys like Captains Fransbergen, May,Siddle, Harvey, Cwihun. My room mate was Glen Delanie.
While with PWA I met Josie Forbes an Australian who had joined with Bobbie Williams and Sandy Flood. I left PWA to return to the Caribbean and help start a cargo company named Seagreen air transport flying Beech 18 and DC3..Two years later I joined LIAT as a direct entry Captain on HS748.
Josie left PWA and together with Sandy and Bobbie joined WARDAIR. Josie was transferred to Toronto to act as assistant chief hostess, we were married there in 69.She moved to Antigua where we lived until 74 when LIAT which had been bought out by COURT line England went bankrupt. Josie together with Sally Hardy an ex B.A Hostess, set up and trained cabin attendants for LIAT and Air CALYPSO. We with our new son Scott moved to South Africa where I joined South African Airways flying the B707 and B747.In 1976 the situation in South Africa revolving around the illness of our son, politics, seniority and wages encouraged us to return to Toronto with our now two sons Grant being born in Johannesburg. I joined Quebec Air on the B720 and later did probationary period with WARD Air leaving to join Iran Air.
With the war closing Iran Air down I escaped so returning to Toronto and joined SAUDI Arabian Airlines 79.The family was relocated to Jeddah where we spent 5 years returning to Toronto in 1984.Josie rejoined WARD Air to assist in hiring Cabin attendants. I remained on the freelance pilot market flying for such companies as Dominicana, OLYMPIC, British Midlands, Tradewinds Singapore, Time Air, Sweden, Sri Lankan Airlines, THAI International, Air Atlanta, OKADA Air, Air Dabia. as captain on B707,B737,B747,DC8 Catalina,DC3,HS748,Da10 /20.Under contract with Guineas Peat I was sent to Singapore for two years on the MD87.Being based in Singapore our boys attended school there however as the base closed 1991 they needed to attend a school so we bought a home in South Africa where they attended a private boarding schools. Josie left WARDAIR to live near the boys Regretfully she contracted cancer in 1997,after a long illness including major surgery she died in 2002,her ashes spread on the water of Port Douglas Australia as per her request. I finally retired after 42 years flying in 2006, doing my last flight around the world for a private B747 SP owner delivering it to Thunderbay to be stored for the winter. Please find enclosed my e/amil address if any one who may remember us can contact me.
Regretfully this is the only picture I have of Josie .Bobbie and Sandy (Flash) when they left PWA and joined Wardair. Sandy is 3rd from left top, Josie 5th from left top and Bobbie in the middle. Regards .... Alan


---
Oct 2012 - Keeping Posted from January 1970
I am attaching 3 photo's of the crew from a scan from Pacific Western Airlines Keeping Posted 1970 January Edition and the AMA round the world Charter. Isle passed away in Edmonton this month - Garth Caron.
The Crew:
Captain Art Bell
First Officer Alex McTavish
Engineer Moe Sangster
Navigator Cliff Beck
Purser Gil Tsui
Purser Ole Damsgaard
FIt. Attendants:
Isle Buffi
Corry Van Vliet
Dianne Paradee
---
June 2012 Corinne Koftinoff
My name is Corinne Koftinoff and would you kindly add me to the people list on the PWA website. I started in 1972 as a flight attendant and retired with Canadian Airlines in 2001. I was known originally as Davis then Fredrick. My husband and I own / operate Finger Lake Resort a small fishing and hunting spot located 2 hours southwest of Prince George.


---
May 2012 Dan Berg
I retired from the airline business in 2005. However back in 1993 my nephew and I started a small coffee shop www.groundsforcoffee.ca which has morphed into a bit of a Cinnamon Bun phenomenon for us, as from that coffee shop we produce and wholesale our cinnamon buns throughout all of southern BC. As if that doesnít keep me busy enough, in 2007 my 2 cousins and I bought the original movie theatre in YXJ, www.thelido.ca and turned it into a live act theatre where Country, Rock, and Folk singers, plus Comedians, and Magicians from all over Canada and the US come to perform while touring across Canada. Although I have retired from the airline business my love of aviation has brought me back to renewing my private pilots licence again after 32 years away from it. The picture of the Cherokee is the plane that I just bought a share of to take advantage of being able to do some cross country trips.
---
Apr 2012 - Ric Stovin
Ric worked in Airport Services for more years than he wishes to recall. He now lives in Regina and says hi to the gang. He works as a "Shuttle Pilot" for the staff at the Co-Op refinery. He loves the work and his people.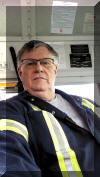 ---
Jan 2012 - Snowbirds
Four couples met this month met in Surprise AZ for afternoon refreshments. I am creating a contact list of PWA Snowbirds and if you wish to be added, please send an email. The hope is that this can be shared with others you may know in the area and the group will grow. There is more than just AZ - if you winter in Palm Springs, San Diego, Florida, Mexico etc please do send a note with your coordinates. This info is private to members only and with your permission.

From L-R - D. Fitzpatrick, Webmaster, P. Stoker, J. Szakacs
---