Interesting Topics - Pictures, Events and History and Achived Information
---
Edmonton Industrial Airport Ticket Counter Staff - ~1973. Photo Credit T. Jutti.
---
Sep 15, 2014 Small Beginnings - From N. Burton
Recommended Charter License to U.S. In July 1954, Joseph L. Fitzmaurice, a Washington, D.C. Civil Aeronautics Board examiner recommended that Pacific Western Airlines be approved for a charter license for flights to the western U.S. and Alaska. Previously, the airline was required to apply for individual charter permits which caused delays. Bases involved for charter flights, under new permitting, were: Vancouver, Kamloops, Nelson, Port Alberni, Fort St. James, Prince George and Terrace. (Source: Vancouver Sun – 28 July 1954)
---
June 23, 2014 - B737-200 Model Decals
One can order decals for the Boeing 737-200 aircraft identical to a/c 745 parked at the Alberta Air Museum in Edmonton. Thanks to the vigilance of Richard Albert, an avid modeller, two types of decals are now available for this a/c and also available in a variety of sizes. FYI - a 1/72 scale B737 stands about 6 inches tall at the tail fin and is one of the larger models commercially available. Here is a link to story of Decal Draw and the details on what is out there.


---
May 23, 2014 - Air Canada Boeing 787 Dreamliner Programme
As true aviation people, technology is and always will be a big part of our careers. We started with SITA and used cryptic messages that began with QU YVRRRPW ... Off the shelf software and programs did not exist so we developed and deployed our own systems such as ALFIE, Sceptre, Flight Dispatch programs, People Soft Crew Scheduling, and Quicket digital check in Kiosks, In 2001, our airline became part of the new Air Canada and our roots run deep in this organization. Many co-workers still enjoy a career here and many more retired from AC.
We been watching with avid interest the advanced technology and design of the Air Canada Boeing 787 Dreamliner aircraft.
The first aircraft C-GHPQ took to the sky on its maiden test flight Apr 22, 2014. You can watch the video
here
. It is now working flights between YYZ and YHZ and will soon be flying to ZRH and HND. There are 2 more AC Boeing 787 ready at Everett Wa. The first test flight for C-GHPT is scheduled for May 23, 2014. The third B787 C-GHPU should be ready to fly at the end of May. A fourth B787 C-GHPV will be built in Charleston NC and will be ready in Oct / Nov 2014. You can follow some of the news on the Air Canada
twitter account
. If you want to see more info on these events, send an
email
.
---
Nov 15, 2013 -
This day in history: November 15, 1958 - From the Vancouver Sun (N. Gosling)
'Last of the great bush pilots' Russ Baker died after a career in which he logged 15,000 hours in the air and founded his own airline. Fifty-five years ago, "the last of the great bush pilots" died of a heart attack.
Russ Baker was an aviation legend who had notched over 15,000 hours in the air, flown 700 "mercy flights" and founded his own airline. "He was an airman's airman, a man equally at home in an Indian wickiup, in the bitterly cold cockpit of a tiny bush plane and in a panelled executive office," The Vancouver Sun reported when he died.
"Children were born in his planes, murderers were carried to justice, and hundreds of lives were saved through his skill and carefully calculated daring."
Baker was born in Winnipeg in 1910 and started flying there in 1927. He made his first flight to British Columbia three years later, and fell in love with the province and its rugged terrain.
He lived through some hard times during the Depression, riding the rails and prospecting in the Cariboo before scrounging enough money to buy a plane in 1937.
The de Havilland Fox Moth had crashed twice, and once had been submerged in a river. But Baker nursed it back to health and launched a one-man airline in the Interior.
"It had a cracked nose, and (Baker) was often blinded by flying oil which cut off his vision," wrote Pierre Berton in The Sun. "He had neither engine nor prop covers, and on freezing winter days he used to have to borrow blankets, drape them over the engine, and build a bonfire beneath it to warm it for takeoff.
"Such was the harsh life Russ Baker lived in the late 1930s and '40s. He was map-maker, trapper, doctor, prospector, ambulance driver, postman, firefighter, freighter and forest ranger, all rolled into one."
He was also a decorated hero. In January 1942, Baker located 24 missing U.S. airmen who had crashed in a B-52 bomber near the B.C.-Yukon border.
"Baker made three trips to the position, but turned back each time because it appeared impossible to land," wrote Doug Heal in a 1952 Province story.
Baker finally was able to land, but "faced a takeofffrom a short runway that had a hill at the back and a straight drop in front." He wound up making eight trips to pick up the soldiers, and was later awarded the American Air Medal by U.S. President Harry Truman.
Baker started Central BC Airways in Fort St. James in 1946, which became Pacific Western Airlines in 1953. By 1958, it was the third-largest airline in Canada, with 95 aircraft. Baker was 48 when he died. He is remembered by a Richmond street near the Vancouver International Airport, Russ Baker Way.
jmackie@vancouversun.com
---
Sep 27, 2013
For those Canadian Airlines people, here is a promo video from the 1990's. You might see some of your old friends here.
---
Sep 18, 2013 - Retirees in YVR from Oct 14, 1984


---
Aug 26, 2013 - F/A Riva Whitehouse (Bertram) in career class.
Clipping from the Vancouver Sun Oct 29, 1971



Below is a news article below regarding airline regulation in place during the 70's and how PWA dealt with it on a Grey Cup flight.


---
July 18, 2013 - Convair 640 Crew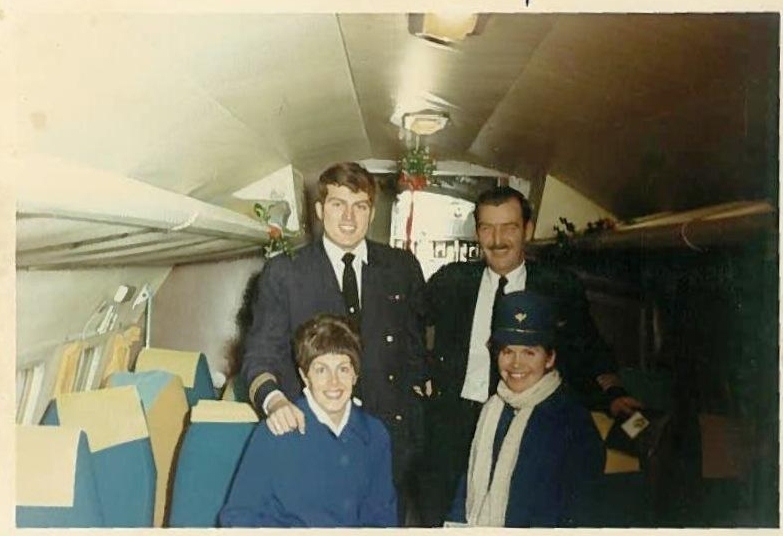 We have a CVR640 crew at Christmas. Unfortunately all of their names were not apparent but with the help of the readers we now know we have at back F/O I. Hansen, Capt D. Hannay, and in front F/A S. Gray and TBA.
---
June 17, 2013 Granduc Stewart
A poem was submitted to us on behalf of the author, Engineer Bill Ross. The poem was written in the 1960's and is about the Stewart Airlift to the Granduc Mine. For a brief history of the mine, click here. The aircraft involved are C-46's and Otters. If anyone has more to add to the story, knew Bill Ross or has pictures from the era, send them to the webmaster.

You have heard of the pilots and aircraft
and all of the flying they do
Jim Siddle with nerves of cast iron
Pat Carey and Ronnie Wells too.
But what of the poor air engineers
who toil in the cold, night & day
Tuning up those C46's and Otters
To keep Granduc's freight on the way.
We are up in the morning early
if we do get an hour in bed
Still weary from fixing and loading and feeling like someone half dead.
If and when we get off duty
and two miles to Hyder go
To have a drink in the evening
and brood on our sad tale of woe.
Then its back to Stewart airstrip
in coveralls rigid with grease
To patch up Jack Magel's aircraft
He got it back in one piece.
Hats off to skilled air Engineers
it is on him that Granduc depends
His work and devotion to duty
will get all the freight out in the end.
Bill Ross
---
Apr 30, 2013 - A Reunion in The Desert
This spring 2013, we enjoyed a 30 day cruise from Singapore to Rome. On April 30, 2013, our ship arrived in Dubai where we were joined by our PWA colleague Bruce Watson (former GM Airports NA) who now resides in Dubai and works for Emirates in the UAE. Our cruise shipmates included Matti Koivula (Flight Ops) and Lorna Koivula (SOCC) who along with myself and Faye, and with Bruce's kindness, we took in some of the extras this incredible city has to offer. Lunch was at Tim Horton's next to the Burj Khalifa. Bruce took the picture.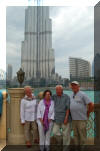 ---
March 28, 2013 Edmonton Museum Searches for F/A Aprons & the 2002 Reunion Booklet.
The Edmonton Aviation Museum is now looking for the past aprons to go with the old uniforms of PWA.
The hardest to find will probably be the old Stampeder one. It was beige with horses on it. There was the navy and pink one with a zipper up the front that went with the pink one, a beige one with Pacific western airlines across the top and went with the green. The lovely blue and white stripes that went with the blue? Seems to me also a navy blue one. Does anyone have the old blue and white stripped blouse and skirt that was the summer uniform that went with the blue? If you would like to get rid of those uniform pieces stuffed in your closet we will be happy to make arrangements to take it off your hands. The museum will take better care of it than it just sitting in your closet.
We can also help out the Ottawa museum by trying to get two of the same items.
email myself or Terry Champion
Any help you can give will be appreciated.
Thank you all. A. Bidlock
Terry has asked if anyone has a spare copy of the 2002 Reunion Booklet, to contact him. The curator is interested in a copy for their collection.
---
Feb 8, 2013 - Wilf Carter
In 1975 PWA sponsored Country singing star Wilf Carter (1904-1996) on a charity benefit in Yellowknife. Here you can find a picture of Mr. Carter and Mel Crothers at YEG. Picture submitted by D. Erickson


---
Jan 22, 2013 - 909 Trip Pass
Do you remember these. B. Nadeau send this on for your enjoyment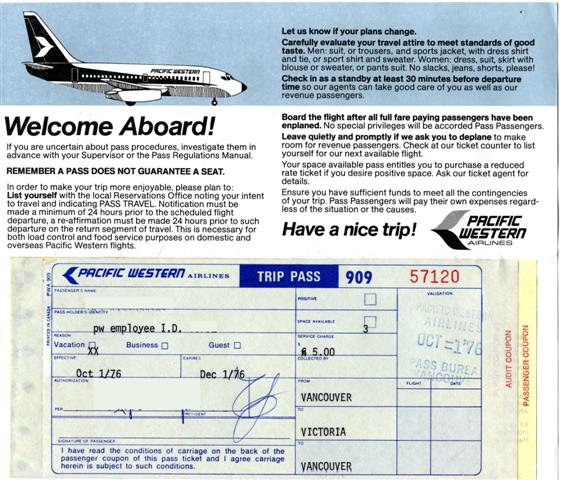 ---
Jan 2013 - Wings (retirement) Sent by Alan Evans
Once the wings go on, they never come off whether they can be seen or not. It fuses to the soul through adversity, fear and adrenaline and no one who has ever worn them with pride, integrity and guts can ever sleep through the "call of the wild" that wafts through the bedroom windows in the deep of the night. When a good aircrewman leaves the "job" and retires, many are jealous, some are pleased and yet others, who may have already retired, wonder. We wonder if he knows what he is leaving behind, because we already know. We know, for example, that after a lifetime of camaraderie that few experience, it will remain as a longing for those past times. We know in the world of flying, there is a fellowship which lasts long after the flight suits are hung up in the back of the closet. We know even if he throws them away, they will be on him with every step and breath that remains in his life. We also know how the very bearing of a man speaks of what he was and in his heart still is.

Because we flew, we envy no man on earth.
(from Webmaster - It does not matter that you were air crew, this thought applies to all our careers. It was the best!)
---
Jan 2013 - Incredible Pacific Western video from the 50's
PWA, DC3, CF-EPI loading at Terrace Airport, winter 1956-57
PWA DC3 Taking Off from Terrace Airport, ca 1956-57
Taking off from Terrace Airport, taken from inside the DC3, 1956-57
PWA- DC3 landing at Sea Island Vancouver BC airport, ca1956-57

---
Everything Nordair - Sent by Ric Stovin
Nicely done video. Thought you might find this interesting
http://youtu.be/ttYuPdO3WkU



---
Dec 24, 2012 - This is very possible or it is a marvellous coincidence.
Seasons Greetings to you.
In the 1960's I used to fly from Edmonton to Yellowknife on a fairly regular basis. In fact the staff at C.N. Telecommunications used to joke that the PWA. aircraft would wait at the end of the Edmonton Municipal airport runway to check that I was onboard.
Just prior to Xmas I was waiting in Yellowknife for the 14:30 flight from Inuvik to arrive and getting updates of the E.T.A. from the PWA office which was located in the barbershop of the Yellowknife Hotel. The E.T.A. kept getting later, and later, final arrival was around 22:30 and we were told that problems starting on of the engines on the DC6 had been a problem.
On boarding the aircraft, passengers found that on the port side of the aircraft all the seats had been removed and cargo netting erected. Behind the netting was a group of tethered reindeer who were very quiet and well behaved and could be hand fed with sandwiches across the aisle. We understood that the reindeer were enroute to Edmonton and Calgary for display in the local Woodward's stores. I relate this experience to people here in the U.S.A. and they look at me with disbelief and question what I had been drinking! Could someone please confirm this for me and give a date Xmas 1961, or 1962? Thank you, Daine Kelman
---
June 24, 2012 - PWQ DC6 in Finland
Hello. I found your website and it shows that you flew one of the DC6's (CF-PWQ) of which I have it's nose section preserved here in Finland..!! I purchased it from Phoenix Arizona and had it shipped to Finland. I have spent lot of time to restoring it and soon to be made to a flight simulator...:) I'm sure some of your people would be interested of knowing this. E-mail me at this contact.
Here I include some images for you to see...
Thank You Pekka J Kauppi
---
INTERESTING FACTS ABOUT AIRLINES, AIRPORTS AND AIR TRAVELING

• All International Airline Pilots speaks English.

• Flights longer than 8 hours require 3 pilots (1 captain and 2 first officers) to rotate flying duties. Flights longer than 12 hours require 4 pilots (1 captain and 3 first officers). They usually fly 3-4 hour shifts.

•Each airline pilot flying the aircraft, eats a different meal to minimize the risk of all pilots on board being ill.

•On average, pilots fly between 9 and 14 days a month (Indian company pilots fly 24 to 26 days)

•All airlines have an agreement to let each others' travelling pilots occupy empty seats. If no seats are available, the travelling pilot can also occupy an extra seat in the cockpit that is usually empty.

•The main function of flight attendants are for the safety and security of their passengers, and passenger comfort is only secondary.

•The first female flight attendants in 1930 were required to weigh less than 115 pounds. In addition, they had to be nurses and unmarried.

•Flight attendants must not have any tattoos visible when a uniform is worn. These requirements are designed to give the airlines a positive representation.

•The normal ratio of Flight Attendants to passenger seats is one Flight Attendant for every 50 passenger seats.

•The height requirement for Flight Attendant is for safety reasons, making sure that all flight attendants can reach overhead safety equipment.

•The normal ratio of Lavatories to passengers is approximately one lavatory for every 50 passengers.

•An air traveler can lose approximately 1.5 litres of water in the body during a three-hour flight.

•The reason why the lights are turned out during takeoff and landing – Is for your eyes to adjust to lower levels of light. If there's an accident and they have to activate the emergency slides, studies have shown that you will be able to see better and therefore be able to evacuate more quickly and safely.

•The World's largest Airline in terms of Fleet Size is Delta Airlines (United States) with 744 aircraft and 121 aircraft on order as of March 2011.

•The largest passenger plane is the Airbus 380 - nearly 240 feet long, almost 80 feet high, and has a wingspan of more than 260 feet. The double-decker plane has a standard seating capacity of 555 passengers.

•The world's busiest airport in terms of passenger volume or the number of takeoffs and landings, is Hartsfield–Jackson Atlanta International Airport, Atlanta, Georgia, United States – with more than 88 million passengers shuffled through the Atlanta airport in 2009, with another 20 million in the first three months of 2010, and with aircraft take-off and landings approximately every 37 seconds.

•The Internet/On-Line check-in was first used by Alaskan Airlines in 1999.

•The world's Largest Airport is Kansai International Airport, Osaka, Japan (as of 2011). By 2013 Al Maktoum International Airport in Jebel Ali, Dubai, United Arab Emirates is planned to be the largest airport in the world.

•The airport with the longest runway in the world is Qamdo Bangda Airport in the Peoples Republic of China with 5.50 kilometers in length (as of 2011).

•American Airlines saved $40,000 in 1987 by removing 1 olive from each salad served in first class.

•In 2009, Southwest served 63.2 million cans of soda, juices, and water; 14.3 million alcoholic beverages; 14 million bags of pretzels; 90 million bags of peanuts; 17.7 million Select-A-Snacks; and 33.5 million other snacks.

•Singapore Airlines spends about $700 million on food every year and $16 million on wine alone. First class passengers consume 20,000 bottles of alcohol every month and Singapore Airlines is the second largest buyer of Dom Perignon champagne in the world.

•Cathay Pacific carries rice cookers, toasters, cappuccino makers and skillets on board their airplanes.

•KLM of Netherlands stands for Koninklijke Luchtvaart Maatschappij (meaning Royal Dutch Airlines).

•KLM is the worlds' oldest airline established in 1919.

•QANTAS - Australia's national airline, originally stood for Queensland And Northern Territories Air Service.

•QANTAS is the second world's oldest airline established in 1920.

•QANTAS still has the world's best safety record with no crashes as of 2011.

•Virgin Atlantic lists catering as their third biggest expense, after fuel and maintenance.

•American Airlines spent about $425 million on food for domestic passengers in 2001.

•In one year, British Airways passengers consume:
* 40.5 tons of chicken
* 6 tons of caviar
* 22 tons of smoked salmon
* 557,507 boxes of chocolate
* 90 thousand cases (9 liter cases) of sparkling wine.

•Abu Dhabi Airport Services once did a complete turn-around for a Boeing 777 in under 40 minutes, as opposed to a normal minimum of one hour. They unloaded passengers, cargo, mail, cleaned the aircraft, and loaded outbound passengers, cargo and mail in that short time.

•In 2001, Dubai Duty Free sold 1,570,214 cartons of cigarettes, 2,003,151 bottles of liquor, 2,909 kilograms of gold, 101,824 watches, 690,502 bottles of perfume, 52,119 mobile phones.

•In-flight catering is an $18 billion worldwide industry employing up to 200,000 people.
---
Deregulation in 1984
You will find an excellent executive paper created by Hassan Eltaher in 1984. It sizes up the competition and how PWA would face deregulation. We can see parallels in today's airline world. Click here for PDF
---
Marketing to Seniors
Hassan Eltaher submits a Seniors Marketing Program.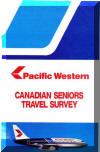 ---


From S. Wereschuk
---

A PWA Billboard off Burrard and Georgia from an airline friend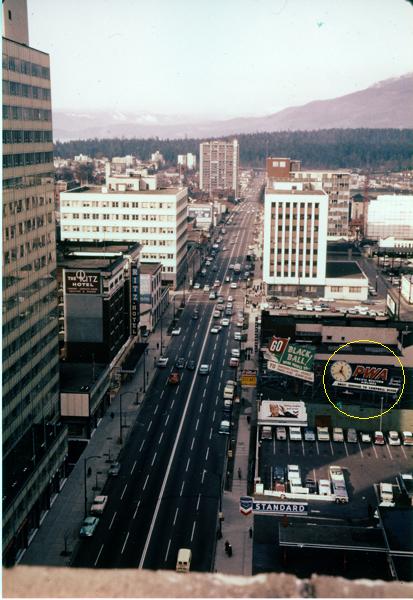 ---
May 2012 Ace McCool Flies Again - From Canadian Aviation - Jan 1976
The end page of the magazine always had a humorous story about Ace McCool an
intrepid and perhaps inept pilot working for Down East International. The article was
written by Capt
Jack Desmarais. You might enjoy this one. Click here.

Canadian Aviation Cover from Jan 1976


---
May 1, 2012 - A vintage news article
This is about B707 Charters and Capt Art Bell as written by a young journalist in Jan 1975. Click here


Another Capt Art Bell article- The racehorse and the DC4 flight out of New Zealand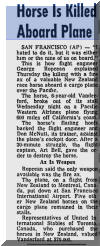 ---
Picture of the Month - From the Edmonton Journal - Copyright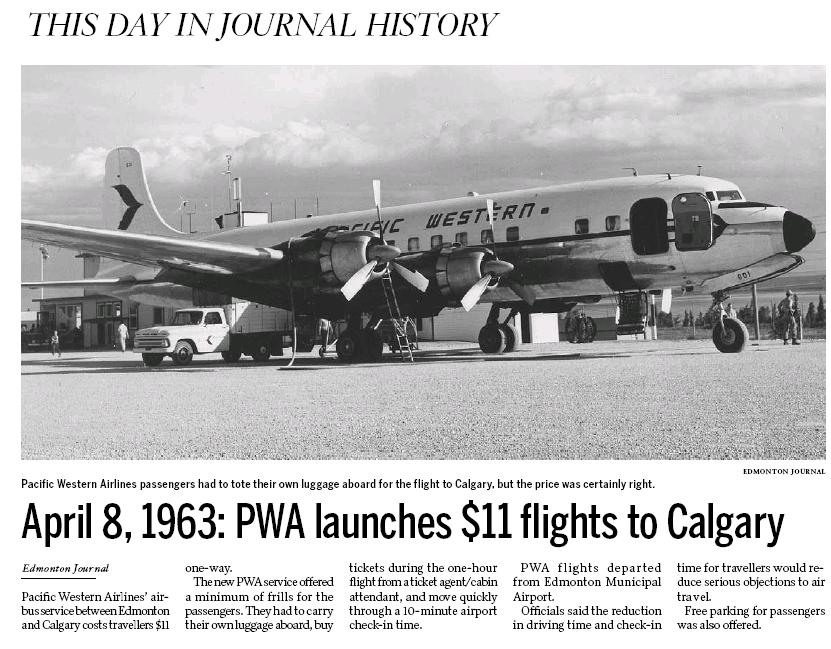 ---
Feb 4, 2012 A Rare Button (D Kennedy)


---
Feb 1, 2012
Some interesting stuff from Hassan Eltaher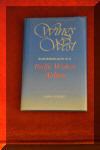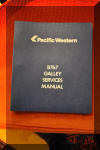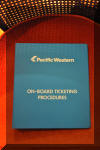 ---
Jan 20, 2012
Did you miss out on your "Crossed the Arctic Circle Certificate" way back when? The attached is ready to let you complete your journey documents. Bon Voyage! If you can identify the signature on the certificate or would like a high resolution version please please send an email .
---
Jan 16, 2012


Would you like a visual history of PWA from the 60's and 70's, check this website.
---
June 20, 2011
System Timetables from 1967 and 1968. (D Dertien) .... The one September 1967 was the introduction of the new 'Javelin Jet Prop' service featuring the Convair 640....December 1968 introducing the new 737 service. Also mentioned is the 'Chieftain Service' between Edmonton & Calgary
---
May 17, 2011 - Stampeder Service Connects through to Vancouver


Here is an item from my collection of vintage newspapers...from the Kamloops News Advertiser of Wednesday Dec.18,1968. This is a front page article which covers the beginning of "Stampeder Service" [YVR YKA YYC ] on the previous day. The flight attendants [stewardesses in the article] are Elizabeth Angst and Susan deSilva. I lived in YKA at the time but not yet employed by PWA. I worked YVR ramp, baggage service and later reservations;1975 -2001. Regards,Alan Giolma.
---
Merry Christmas with Good Health Safe Travels from All of the PWA Alumni

This Christmas Card kindly submitted by J. Kapeller - thanks
---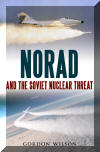 I took up writing in retirement and my first book will be published in June 2011.

Gordon Wilson [PWA Electra Hercules B737 B727]
NORAD and the Soviet Nuclear Threat
Canada's Secret Electronic Air War

www.sparksinthenightsky.com
---
Christine Larson PWA Class Photo
Hi there, I was wondering if you have the class photos for 1969? Unfortunately for my mother "Christine Larson" her photos were lost in a move. Is there anyway you have her class photo or photos? I know the photo was of the crew on the tail wing of the plane. Any help you could offer, even if only to point me in the direction of tracking the photos down would be UNBELIEVABLY helpful!

Thank you very much
Sincerely Christian Larson
---
Nov 1, 2010 - Where is the fleet?
Here is a list of PW aircraft stored at MHV _Mohave Air and Space Port
MHV C-GEPW B737-275 21115 2002-05-06 2003-01-27 X a/w 5118
MHV C-GGPW B737-275 21539 2002-05-13 2002-11-06 ex Air Canada to ACY 5119
MHV C-GKPW B737-200 2003-01-16 2003-08-20 ex Air Canada to EX-015 5120
MHV C-GNPW B737-200 2002-11-16 2003-01-15 X ex Air Canada 5121
MHV C-GPPW B737-200 2002-11-19 2003-02-20 X ex Air Canada 5122
MHV C-GPWA B767-275 22683 2002-10-01 2002-10-02 X ex Air Canada 5123
MHV C-GQBB B737-200 2002-11-16 2002-11-16 X ex Air Canada 5124 (Quebec Air)
MHV C-GTPW B737-200 22807 2002-09-24 2003-01-27 X ex Air Canada 5125
MHV C-GUPW B737-200 2003-01-16 2003-04-17 X ex Air Canada 5126
MHV C-GVPW B737-200 2002-11-19 2003-02-20 X ex Air Canada

---
A Christmas Card circa 1960's (Photo by Henry Busse)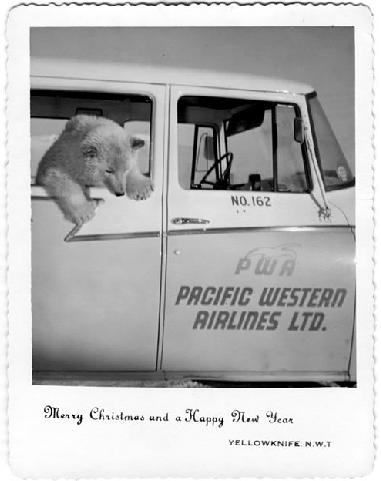 ---
Queen Charlotte Airways - Catalina - PBY
I just googled the name "Slafco Inc" or Robert P. Schlaefli and found a photo of a Catalina - CF-GHU "Kitmat Queen" which was registered to QCA 1951-1957 and PWA 1957 (not in PWA colours).Googling CF-GLU, I discovered another QCA/PWA Catalina was CF-GLX. The book (in google), Consolidated PBY Catalina by David Legg, has a photo of CF-GLX from Peter Keating collection as being PWA. Neil Burton
---
Brandon Airport Plaque - N Burton


---
March 22, 2010
Below is a 1982 picture taken at Sandspit Airport with a load of fresh live Dungeness crab readied for shipment south. The cargo load weight averaged over 1000 KG daily and the product was in California in less than 24 hours. The sale contract was done by Ron Charles, the Ground Handler is Jet Eagle Transfer - B Wright.


---
A Video with an AC Super Constellation
Interesting mid 50's TCA Super Connie flight into YVR. Also nostalgic look at Vancouver in 1958!
http://www.britishpathe.com/record.php?id=826
---
Extract from the "Info Canadian" magazine Issue July 1996 and the Netletter

A Look Back at the Municipal airport in Edmonton
• 1920's - From farmer's field to air harbour Government of Canada issued air license #1 to Blatchford Field, the first "public air harbour" in Canada. Legendary bush pilot Wop May operating May Airlines Ltd. helped establish Edmonton 's claim at "Gateway to the North".
• 1930's- While the depression was causing havoc for Canada 's economy, the airport was growing steadily spurred on by northern mining development.
The era of the bush pilots and gold and silver flowed through the airport from northern mines.
• 1940's World War II began an era of unprecedented expansion for Blatchford Field. The federal government leased the airfield for $1 per year during the war.
- It was used for flying training under the British Commonwealth Air Training Plan, as a staging point for the US . Air Force on its northwest route to Soviet Union and as a supply base for the construction of the Alaska Highway and the Canol Pipeline.
- On Sept. 29,1943, Blatchford Field set a US record for daily landings when 860 aircraft landed in a 24-hour period.
• 1950's - By 1957 the airport was transferred to the city and became the first self sufficient municipal airport in Canada . Pacific Western Airlines began its first scheduled passenger service, using DC3.
• 1960's. On Nov. 13, 1963, city council Jornis changed the name of Blatchford Field to the Industrial Airport . PWA started the Calgary arid brought the first B737 to the airport.
• 1970's- on May 15, 1975, city council formally changed the name to Edmonton Municipal Airport. In Nov. 24 1975, the existing terminal Iii was opened. Dec.31, 1976, the Municipal was designated an historic site
• 1980's - Oct. 9, 1984, a comprehensive airport management program, a first in Canada , was adopted by city council.
• 1990's - May 31, 1996, the Municipal airport closed to scheduled passenger travel.


---
Award of Excellence from Skyword 1987 (Updated Nov 2010)

Rose Fleet, B. Potentier, Capt Mike Lynch, Louise Henry, Pat de Sa. Missing Roger Stupak ( Thanks to Rose for the Update)
The plaque reads:
The Companion of Excellence is an elite award to honour those employees whose service and contribution to the success of Pacific Western Airlines is exemplary. The achievements honoured may be as diverse as the individual employees. Some have made major contributions to the community, through volunteer work. Some have made achievements in their personal education. All have been consistently dedicated employees in terms of their day to day work. The Companions have all been nominated by two fellow employees who have recognized and appreciated the efforts made by these employees. These nominations have been reviewed by senior management, who have agreed that the Companions of Excellence are truly an example of our outstanding employees.
---
Crews from another day
Click on the image to get the names
---
Dec 2, 2009
My name is Tom Letchford. I was a part time ground handler in Prince George (YXS) from May 76 till Jan 85. I do remember how fortunate I felt to be working with so many great people. Don Mitchell was the gentleman who hired me. Other great people were J P Aikens, Sheila Tschampa, Ace Gardiner, Cathy Miller, Ron Lawrence, Ron Manning, Dave Mcleish and Mike Gale. I wish I could remember some of the names of the flight attendants and pilots. I always felt that I belonged to one big family. It was the best. I wish it could have lasted.
---
Dec 2, 2009 - From C. Beck
AIRSPEED - Speed of an airplane. (Deduct 25% when listening to a retired fighter pilot).
BANK - The folks who hold the lien on most pilots' cars.
CARBURETOR ICING - A phenomenon reported to the FAA by pilots immediately after they run out of gas.
CONE OF CONFUSION - An area about the size of New Jersey located near the final approach beacon at an airport.
CRAB - A VFR Instructor's attitude on an IFR day.
DEAD RECKONING - You reckon correctly, or you are.
DESTINATION - Geographical location 30 minutes beyond the pilot's bladder saturation point.
ENGINE FAILURE - A condition that occurs when all fuel tanks mysteriously become filled with low-octane air.
FIREWALL - Section of the aircraft specifically designed to funnel heat and smoke into the cockpit.
FLIGHT FOLLOWING - USAF Formation flying.
GLIDE DISTANCE - Half the distance from an airplane to the nearest emergency landing field.
HOBBS - An instrument which creates an emergency situation should it fail during dual instruction.
HYDROPLANE - An airplane designed to land long on a short and wet runway.
IFR - A method of flying by needle and horoscope.
LEAN MIXTURE - Nonalcoholic beer.
MINI MAG LITE - Device designed to support the AA battery industry.
NANOSECOND - Time delay between the Low Fuel Warning light and the onset of carburetor icing.
PARACHUTES - The two chutes in a Stearman.
PARASITIC DRAG - A pilot who bums a ride and complains about the service.
RANGE - Usually about 3 miles short of the destination.
RICH MIXTURE - What you order at another pilot's promotion party.
ROGER - Used when you're not sure what else to say.
SECTIONAL CHART - Any chart that ends 25 nm short of your destination.
SERVICE CEILING - Altitude at which cabin crew can serve drinks.
SPOILERS - FAA Inspectors.
STALL - Technique used to explain to the bank why your car payment is late.
STEEP BANKS - Banks that charge pilots more than 10% interest.
TURN & BANK INDICATOR - An instrument largely ignored by pilots.
USEFUL LOAD - Volumetric capacity of the aircraft, disregarding weight.
VOR - Radio navigation aid, named after the VORtex effect on pilots trying to home in on it.
WAC CHART - Directions to the Army female barracks.
YANKEE - Any pilot who has to ask New Orleans tower to "Say again".
---
Oct 4, 2009
A recent Calgary Herald article - Peter Wallis was part of the Senior Management at Pacific Western.
Appointment - Tourism Calgary has appointed Peter Wallis to its board of directors, as an industry representative of transportation and visitor experience. Wallis, president and chief executive of the Van Horne institute, brings a wealth of knowledge and broad expertise in the tourism industry. A former airline senior executive, Wallis is chairman of the board with the Calgary airport authority, and sits on several boards. "Peter's broad-based understanding of the transportation sector will be an asset to the organization as we move forward," said George Brookman, chairman of tourism Calgary.
---
Aug 14, 2009
Click on the link below you will see that the former C-GPPW 753 met a very sad end in the Congo April 2009. The aircraft operated for PW, Canadian and for Air Canada. Thanks to A. Hickey
http://aviation-safety.net/database/record.php?id=20090429-0
---
April 12, 2009
This picture is the cockpit of AC735 that was adapted for an advertising promotion in the late 1970's. Very creative and thanks Mel Crothers.


---
April 5, 2009 - An e-mail from a loyal customer.
I'm not an ex-employee with Pacific Western Airlines, but an avid and dedicated fan. I just wanted to say thank you for having such a fantastic site and in my opinion it's a great way to keep our PWA still going. I'm a huge collector of PWA merchandise and am wondering if anybody has any models or clothing available for purchase. When I was 3 I first flew Pacific Western out of YXD to YYC. It was a flight I will never forget. In my opinion PWA set a standard that unfortunately has never been repeated in the airline industry. You'll never here some nice easy listening music on your taxi in to the terminal or the classic workhorse, which is fading fast out of our Canadian skies: the Boeing 737-200. Pacific Western was the west. I'm having a hard time finding a 767-275 model. If anyone knows where I can find one please let me know. My name is Chris and I can be reached via e-mail. Thank you for your website and for letting our little ones know what a real airline used to be.

---
IATA Definitions
New up to date IATA definitions for all you airline or ex-airline peole out there. Learn 'em 'cos there will be a test later!!

* Full service carrier : Padded seats, no charge for use of toilets.
* Low cost carrier : Bring your own cushions and toilet paper, credit card swipe for toilets.
* Cabin attendant : Two legged mobile device for extracting cash from captive audience
* Economy class : Conditions under which transportation of animals would constitute a criminal offence.
* Business class : Exclusive area for use of badly behaved airline employees' children travelling on a pass.
* First class : Exclusive area for use of airline employees travelling on a pass.
* Open-Jaw : What clients do when they find out what their fare will be.
* Double open jaw : As above, but when they realise that this did not include taxes and surcharges
* Passenger: Cargo that talks. Self-loading freight.
* Airline Club Lounge : Paradise-like kingdom guarded by dragon-like creatures.
* Fog: Weather condition, invisible to normal people, generated by airportsand airlines as an excuse for disruptions.
* NO REC : The passenger went online and booked his own flight.
* Direct Flight : 1) Connecting flight in disguise. 2) What self-loading freight (see above) think a non-stop flight is.
* In-flight Snacks : Little treats sealed in a bag impervious to all but chainsaws. Guaranteed to spill when opened.
* Baggage Sorting Area : See "Bermuda Triangle."
* Codeshare: Magic trick in which aircraft from several different airlines leave from the same gate at the very same moment to fly the identical route.
* Gate Announcement: Vital information delivered over a defective sound system and given by specially selected personnel with severe speech impediments and an inability to speak any language known to mankind.
* Blankets and Pillows (archaic): Sleep-inducing objects said to have existed in primitive times.
* Minimum Connecting Time: Time it takes for an Olympic gold medal sprinter to run between two gates.
* Hotel/Car Rental Shuttle: Vehicle subject to paranormal effect. While waiting, every van will come by multiple times -- except yours.
* Overhead Luggage : Rectangular object expected to magically shrink from the size of a refrigerator to the size of a loaf of bread.
* Frequent-flyer Programs: Airline's term for Pandora's box.
* ARUNK: Sound passenger makes when sitting between two very large people.
* On Time Arrival : Obscure term, meaning unknown.
* On Time Departure : Cabin doors closed within 15 minutes of scheduled departure. Subsequent delays irrelevant.
* Unforeseen circumstances : the Captain got lucky last night and overslept.
* Legroom : Small space which shrinks during flight and into which an amputee dwarf would have difficulty fitting his non existent legs.
* "We will be landing shortly, and the captain has switched on the seatbelt signs. Please return to your seats to their locked and upright positions and fasten seat belts" ...... Understood by passengers to mean "leap up and start pulling luggage out of overhead bins whilst aircraft is on final approach in turbulent conditions."
* "Please remain seated until we have come to a complete stop at the gate and the Captain has turned off the seat belt sign." Understood by passengers as "Jump up and stand like sheep in the aisle pushing towards the exit doors which are still closed.."

---
February 1983
Pacific Western Airlines and Wardair Canada reached an agreement for travel between Canada and Europe. Effective May 1, PWA passengers would be able to purchase one ticket and travel to Europe on Wardair Canada without re-checking luggage.
---
August 2008 - The Airline Business

Once you get hooked on the airline business, it's worse than dope.
Ed Acker, while Chairman of Air Florida

These days no one can make money on the goddamn airline business. The
economics represent sheer hell.
C. R. Smith, President of American Airlines.

A recession is when you have to tighten your belt; depression is when you have no belt to tighten. When you've lost your trousers - you're in the airline business.
Sir Adam Thomson

If the Wright brothers were alive today Wilbur would have to fire Orville to reduce costs.
Herb Kelleher, Southwest Airlines, ' USA Today,' 8 June 1994.

This is a nasty, rotten business.
Robert L. Crandall, CEO & President of American Airlines.

The thing I miss about Air Force One is they don't lose my luggage.
President George Bush Sr.

You fucking academic eggheads! You don't know shit. You can't deregulate this
industry. You're going to wreck it. You don't know a goddamn thing!
Robert L. Crandall, CEO American Airlines, addressing a Senate lawyer prior
to airline deregulation, 1977.

No one expects Braniff to go broke. No major U.S. carrier ever has.
The Wall Street Journal, 30 July 1980.

If we went into the funeral business, people would stop dying.
Martin R. Shugrue, Vice-chairman Pan Am.

Ladies and gentleman, this is your captain speaking. We have a small problem.
All four engines have stopped. We are doing our damnedest to get them going
again. I trust you are not in too much distress.
Captain Eric Moody, British Airways, passenger PA after flying through
volcanic ash in a B-747.

The greatest sin of airline management of the last 22 years is to say, "Its
all labors fault."
Donald Carty, Chairman and CEO American Airlines, 12 August 2002.

If the pilots were in charge, Columbus would still be in port. They believe
the assertion that the world is flat.
Robert L. Crandall, 1993.

Think and act big and grow smaller, or think and act small and grow bigger.
Herb Kelleher

That place runs on Herb Kelleher's bullshit.
Robert W. Baker, VP American Airlines, regards Southwest Airlines.

There are only two reasons to sit in the back row of an airplane: Either you
have diarrhea, or you're anxious to meet people who do.
Henry Kissinger

There are only two emotions in a plane: boredom and terror.
Orson Welles, interview to celebrate his 70th birthday, 'The Times,' 6 May
1985.

To me, an airplane is a great place to diet.
Wolfgang Puck

Airplane travel is nature's way of making you look like your passport photo.
Vice President Albert Gore.

I mean, they get paid an awful lot of money. The only good thing about them
is they can't work after they're 60.
Judge Prudence Carter Beatty, New York Southern District Bankruptcy Court,
regards Delta Air Lines pilots. Reported in The Wall Street Journal, 18 November
2005

Told to me by a pilot: "We don't get paid for what we do, we get paid for what we know."
---
Feb 2008
In May 1970, Pacific Western Airlines took over the routes in Kamloops, Kelowna, Penticton and Cranbrook. A document of that vintage can be seen here.

Neil Burton with the collaboration of Capt R. Reaville (retired) submitted an interesting story about the first operations of a DH Twin Otter that made its inaugural trip into Mica Creek, BC. Capt Reaville (then BC Airlines) was at the controls.
Kamloops Daily Sentinel Reporter - 18 July 1968.by Mike Rimmer
"Suddenly, there it is ....a 20 mile slash of civilization in the midst of a wilderness which closes in on the rock-flour colouration of the Columbia River. For 15 minutes a new DeHavilland DHC-6 owned by B.C. Airlines, has followed the winding river. The flight from Kamloops has been less than an hour's duration.

Now photographers press to windows unobstructed by struts or wings, searching for the best shots of Mica City. Mica City, a town where there is no unemployment; a town where interest focuses upon a 3,000 yard stretch located eight miles upstream. The town has been carved out of the wilderness since 1965 to serve 2,000 workers on the Mica Dam, third and last of the Columbia Treaty dams.

The Twin Otter makes one pass over Mica City before proceeding 17 miles upstream to a crude, gravel landing strip. Enroute it passes over the 3,000 yard stretch towards which all efforts are directed. Safe behind an up and downstream cofferdam, men and machines are scraping the river bed to bedrock."
---
A Poem by Dennis Currie
On the retirement of Captain Lee Russell I submit this story. Lee was one of the great check pilots, as Captain Jack Magel once said, 'Lee was a lifesaver in a sea of assholes.' Thanks Lee.

AIRPORT IV (the Simulator)

The 737 simulator is not everyone's favorite airplane
It doesn't exactly fly like the jet
When you first get in its usually cold and clammy
Though after 20 minutes you're hot, and probably slightly wet

Gordy McLeod, he's my Ace Captain
I'm in the right seat putting out fires
Lee Russell is ATC, mechanic, flight attendant and that furry little gremlin
He's a busy guy, but not as busy as us fliers

After the briefing we're off to Kamloops
With a controllable APU fire while we're still on the ground
Lee, our mechanic, fixes it quickly
Then we blast off with semi-realistic sound

On the climbout not many gremlins
Just a wheel well fire and an overheated duct
Then level, where Lee the check pilot, hands Gordy a piece of paper
But Gordy, the bastard, won't let me see it and I know that I'm fucked

Then BOOM, there's a WHOOSH, we've lost pressurization
As my Captain slumps lifeless over the wheel
I don my mask as I drive the airplane
Down towards earth and I do the whole spiel

Passenger Oxygen, Seat Belts, Ignitors
Thrust off, Speed Brake, roll her into a steep descent
Call Lee at ATC, advise Lord Lee at Lloyds of London
Look out below 'cause we are hell bent

Down to 14,000 feet where there's air for breathing
Ring for the purser, "is the Captain alive
Recline his seat, Lee, what's his seniority number"
Sort of half cheers you up, when one of those senior guys dies

I say to Lee, remember he's the purser
"If Gordy is dead, then get him out of the seat
And Lee, get me a flight attendant", I hope one that's pretty
Remember Karen Black in the movie, she really was neat

So Lee says, "Are you sure, okay Dennis; Gordy you're a flight attendant"
Gordy bursts out "I'm George, Wow, this is grand
Gee Dennis, thanks for inviting me up to the cockpit
There sure is lots of dials, hey, who's in command?"
They could not have had this planned

Now don't get me wrong, I do like George
But as help in the cockpit, he would not be the best
And Gordy's impersonation has Lee and I laughing
So hard I've almost forgotten that this is a test

"George sit on your hands", I yell through the laughter
"No, don't touch that gear handle and don't say a word"
I've just barely stopped a self made disaster
Instead of a dead Captain, now I've got a nerd

In 'real' time we're still on our way into Kamloops
The roof has blown off, but at least George is restrained
Call Lee in the tower for the ambulance and the fire trucks
Doing all the checks the way that we're trained

The rest of that leg really went with no problem
I had flown with Gordy enough know how to fly the jet alone
Just an unpressurized, slow descent down into Kamloops
I had to listen to Lee politely go on in a 'don't try that again' debriefing
Gordy laughing,
Then sadly, we had to go home

Captain Gordy McLeod
Check Pilot Captain Lee Russell
First Officer Dennis Currie
1989 YVR

---
PWA Will Fly in Hydro Area. Vancouver (Canadian Press) Oct 10, 1957
Pacific Western Airlines has been authorized to open the first air services to the Rocky Mountain Trench area where the Wenner-Gren interests plan a vast hydro scheme.
The airline said Wednesday it has received permission from the air transport board to set up bases at Fort McLeod and Fort St. John and to run an irregular passenger freight and mail service from Prince George into the area.
Points to be served include Fort McLeod, Finlay Forks, Fort Graham and Fort Ware. PWA has done contract flying for the Wenner-Gren explorations.
---

Poems
We have so many gifted people and this page is dedicated to Capt. Dennis Currie who has written many poems about the airline over the years. He has had his work published in several aviation magazines. He has truly captured many of those magic moments of our past. Thank you Dennis
Here are two : More will be added in the near future.
SUMMER IN KAMLOOPS
Chuck and I standing in front of a blue jet in Kamloops
Comparing the difference in each of its sides
It was 746, the Pratt and Whitney engines
Spun in the warm breeze, slung low to each side
Chuck's side had the main door and the marvellous airstair
My side had the freight doors and the APU fin
His left air compressor ran, dripping water
On the right, the last baggage was just going in
Then out of the terminal came long legged Lynda
No lie, she was the girl of your dreams
She walked up to us and to our elation
Spoke very kindly, her eyes were agleam
As she climbed up the stairs of our shining spaceship
The Captain called, `steady', perhaps to himself
But we no longer compared the sides of our rocket
We just stood there in silence, amazed at our wealth
Lynda Barendregt
Capt Chuck Reichert

746 C-GJPW

---
THE CRASH AXE GEAR CREW
for Ron Henderson
RESOLUTE Over RESOLUTE BAY
We're on short final, runway 17, Resolute Bay
The right forward main wheel is half out of the well
Our Hercules is almost out of fuel, so we're forced to land
The last two hours have been a cold hell

A 10,000 pound chain is wrapped around the right front gear leg
Gripped by a chain clamp Ron Henderson tightened by hand
I've just buckled in, Ron is nervously fastening his seat belt
The whole town is out to watch us, as we come in to land

My arms still vibrate from chopping at the u-joint
While we endeavoured to free the forward right gear
With the arctic wind roaring in through the hole in the bulkhead
We were too cold and busy to get lost in the fear

This Herc has no wrenches to disconnect the jammed gear legs
Not heavy enough chain to tie even one leg in
We did the best that we could with the crash axe
As we circled Resolute, our options and fuel ran thin

Bert Copping has kept us flying on the two inboard engines
The hour of gas we had aboard, has lasted over two
Ron Forbes and I chopped at bolts with Ron Henderson
Wishing we had just a few simple tools

The left mains and nose gear thumped down just like always
But both the right Dunlops hung up in their bay
We half freed the front one, chained it to the Barber diesel tank
Its barely below the gear doors, this isn't our day

God, what will happen when we touch that ice runway
With no sparks or kerosene, we probably won't burn
If that thin chain breaks, it'll tear out the gear tracks
Could Nancy cartwheel or will she just gently turn

The end is unfolding, our fate lays before us
A Twilight Zone lit, by the cold midnight sun
Each of us alone in our thoughts for this moment
But we are here as a crew, together, as one

Capt. Bert Copping
F/O Ron Forbes
S/O Dennis Currie
Loadmaster Ron Henderson
C130 CF-PWN 382 'Nancy'
April 23 1974
---
1958 Annual Report
See the attached PDF Adobe Acrobat document on changes to the Corporate structure and the appointment of the President Karl Springer. Also you may want to read about a sale of the airline few of us know about. There is also a notice on the passing of Mr. Springer at age 91. Mr Springer also had 2 aircraft registered in his name. (contributed by N Burton)

CF-BMR - Cessna T-50 Crane
May 2, 1946 - K.J. Springer, Toronto
Nov 25, 1947 - Central B.C. Airways, Ltd. - Prince George
Jun 24, 1948 - Damaged Beyond Repair at Giscome, B.C.

CF-BMS - Cessna T-50 Crane
May 2, 1946 - K.J. Springer, Toronto
Apr 17, 1948 - Central B.C. Airways, Ltd. - Prince George
Jun 29, 1948 - Withdrawn from use.

---
Poems
We have so many gifted people and this page is dedicated to Capt. Dennis Currie who has written many poems about the airline over the years. He has had his work published in several aviation magazines. He has truly captured many of those magic moments of our past. Thank you Dennis
Here are two : More will be added in the near future.
SUMMER IN KAMLOOPS
Chuck and I standing in front of a blue jet in Kamloops
Comparing the difference in each of its sides
It was 746, the Pratt and Whitney engines
Spun in the warm breeze, slung low to each side
Chuck's side had the main door and the marvelous airstair
My side had the freight doors and the APU fin
His left air compressor ran, dripping water
On the right, the last baggage was just going in
Then out of the terminal came long legged Lynda
No lie, she was the girl of your dreams
She walked up to us and to our elation
Spoke very kindly, her eyes were agleam
As she climbed up the stairs of our shining spaceship
The Captain called, `steady', perhaps to himself
But we no longer compared the sides of our rocket
We just stood there in silence, amazed at our wealth
Lynda Barendregt
Capt Chuck Reichert

746 C-GJPW
THE CRASH AXE GEAR CREW
for Ron Henderson
RESOLUTE Over RESOLUTE BAY
We're on short final, runway 17, Resolute Bay
The right forward main wheel is half out of the well
Our Hercules is almost out of fuel, so we're forced to land
The last two hours have been a cold hell

A 10,000 pound chain is wrapped around the right front gear leg
Gripped by a chain clamp Ron Henderson tightened by hand
I've just buckled in, Ron is nervously fastening his seat belt
The whole town is out to watch us, as we come in to land

My arms still vibrate from chopping at the u-joint
While we endeavored to free the forward right gear
With the arctic wind roaring in through the hole in the bulkhead
We were too cold and busy to get lost in the fear

This Herc has no wrenches to disconnect the jammed gear legs
Not heavy enough chain to tie even one leg in
We did the best that we could with the crash axe
As we circled Resolute, our options and fuel ran thin

Bert Copping has kept us flying on the two inboard engines
The hour of gas we had aboard, has lasted over two
Ron Forbes and I chopped at bolts with Ron Henderson
Wishing we had just a few simple tools

The left mains and nose gear thumped down just like always
But both the right Dunlops hung up in their bay
We half freed the front one, chained it to the Barber diesel tank
Its barely below the gear doors, this isn't our day

God, what will happen when we touch that ice runway
With no sparks or kerosene, we probably won't burn
If that thin chain breaks, it'll tear out the gear tracks
Could Nancy cartwheel or will she just gently turn

The end is unfolding, our fate lays before us
A Twilight Zone lit, by the cold midnight sun
Each of us alone in our thoughts for this moment
But we are here as a crew, together, as one

Capt. Bert Copping
F/O Ron Forbes
S/O Dennis Currie
Loadmaster Ron Henderson
C130 CF-PWN 382 'Nancy'
April 23 1974